Brands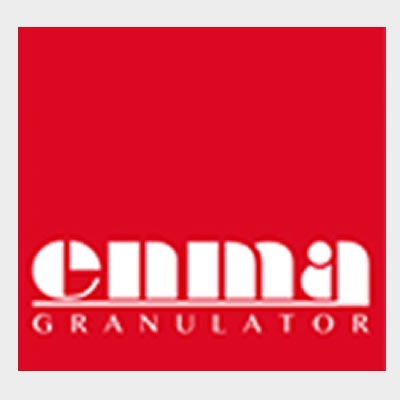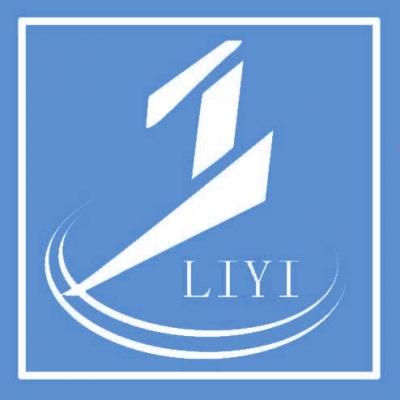 RAPID metal separator for free-fall applications
RAPID metal separators remove magnetic and non-magnetic metal particles (steel, stainless steel, aluminium etc) from free-falling bulk materials. Metal contaminants (even those contained in granulate) are removed by means of a specially designed reject flap ("Quick Flap System"). A further advantage of the "Quick Flap System" is the minimal loss of good material.

Detects and removes even the smallest magnetic and non-magnetic metal particles from regranulates, virgin material and other bulk materials
Reduces production down-times and damage to machinery
Reduces costs and increases productivity
Ensures metal-free bulk materials
Product effect compensation: intrinsic
Conductivity of bulk materials (e.g. from moisture or carbon) can be "tuned out" automatically
Detection unit and reject mechanism are designed to be separated: drop height and direction of reject material can be easily adapted to suit specific requirements (reject mechanism can be rotated through 180°)

RAPID metal separators are used in the plastics industry primarily to protect machinery.
Expensive and time-consuming damage to machines and tooling is reduced, consequently productivity is considerably increased. The system can be easily integrated into existing vertical pipelines to protect grinding mills, cutting mills (cyclone) and dosing equipment (rotary feeders, vibrator chutes etc).
It is also a vital component in quality assurance and can be used equally well as part of an interim inspection procedure or as a final check prior to goods being dispatched. Mounted on a mobile stand the unit can be used for a wide variety of applications e.g. cleaning smaller loads. RAPID units are also suitable for similar applications in other industries (e.g. in the animal feedstuffs and chemical industries).
Typical applications:
Plastics industry: machinery protection, quality assurance
Food industry: quality assurance
Chemical industry: quality assurance
Recycling industry: machinery protection
Wood industry: machinery protection
Animal feedstuffs industry: quality assurance

RAPID metal separators offer the following performance features:
Excellent metal detection, maximum resistance to interference and high mechanical and operational reliability
Automatic self-calibration and ongoing self-monitoring and temperature adjustment
Fully automatic process once optimal customisation of scanning sensitivity and reject duration is achieved
Separation unit is normally supplied in stainless steel (1.4301)
Detection unit and reject mechanism are designed to be separated enabling free-fall height and location of the reject outlet to be precisely positioned to suit on site conditions
Extremely small overall height means it is easy to integrate into existing pipeline systems
Standard pipe connections (Jacobs) speed up installation
"Quick Flap System" minimises loss of good material
Options are available to accommodate materials at high temperature or abrasive bulk materials

RAPID 4000

RAPID 5000

RAPID Vario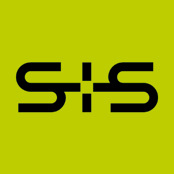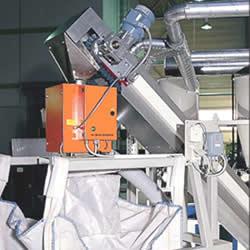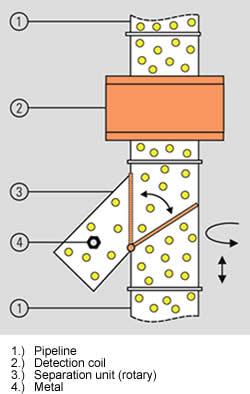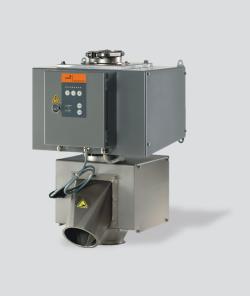 Metro SF metal separator